Shared Mobility Online Dialogue (forum is now closed)
Note:
The dialogue is now closed. You can still view ideas and comments, but we are no longer taking new content, votes, or comments. Thanks to all who participated.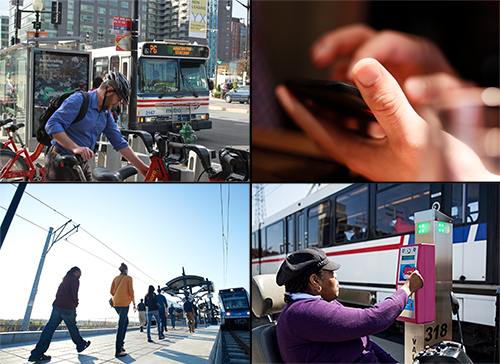 Welcome to our national dialogue!
Thanks to smart phone tools, web applications and innovations in public transportation technology, on-demand transportation solutions like bike-sharing, car-sharing, car-hailing, and innovative demand-response bus services are on the rise, providing new, flexible transportation options . As the transit industry embraces partnerships with these on-demand services, transit agency staff and others have sought
FTA
guidance on issues such as funding eligibility, civil rights requirements, and conditions for receiving
FTA
support.
In response to increasing interest from the transit industry in partnering with on-demand, shared mobility services such as ride-hailing companies, FTA has identified frequently asked questions (FAQs) about funding eligibility under federal public transportation law for FTA grant programs.
But other questions need to be answered, so we're turning to you through this dialogue.
How can I participate?
Participation is simple. Present your own idea; vote on someone else's idea; or simply leave a comment. Our categories, in the form of questions listed below, can guide your response, but any feedback is appreciated.
Once you have logged in (you can choose to remain anonymous), please feel free to:

Browse existing ideas below;


Comment or vote on someone else's idea;


Select "Submit New Idea" to share an idea—you will be prompted to select a "Category" (optional) from a dropdown list; and


Encourage other transportation professionals and members of your community to join the dialogue and share suggestions.
Questions to help guide you
What role should the federal government perform with respect to shared mobility?
What are relevant performance indicators that

FTA

should consider adopting to measure and evaluate the effectiveness of shared mobility in relationship to public transportation?
What are the key shared mobility research questions?
What non-technical areas (political, legislative, institutional, financial, and/or legal) are seen as major challenges to collaboration between the public transportation industry and shared mobility services today?
How can

FTA

ensure that key stakeholders such as transportation workers, the disability community and local governments are included in technical assistance, research and policy making opportunities related to shared mobility?
Today, most shared mobility services are deployed in urbanized areas. How can this concept also benefit less population-dense areas?
How well do current shared mobility solutions provide accessible and effective mobility options for persons with disabilities (including wheelchair users), older Americans and individuals with lower incomes? What are some examples of successful business models? Are there approaches that could be used to ensure equity and fairness in the delivery of shared mobility services?
What information could the

FTA

collect or disseminate that would be helpful to transit agencies and other stakeholders as they assess shared mobility solutions for their communities?
This dialogue will remain open from December 12. 2016, to January 27, 2017; your participation will make a difference!
The main issue for providing shared mobility services in low-density areas is the cost of building new infrastructure. The assumption that everyone makes is that transportation infrastructure is inherently expensive and requires public funding. What if there was an exception to that rule? If mass transit infrastructure was low cost it could be profitable and privately financed. Transit X aims to deploy an ultra-narrow gauge, feather-weight rail system. It has the cost, capacity, and convenience to replace cars, buses, trains, and trucks.

FTA should regulate all federally-subsidized paratransit & transit services to improve Efficiency & Safety. Regardless whether the $ originates with DHHS, DOL, etc, the principles are the same. Involves a safe vehicle with seats and a trained driver. If oversight is in one agency, funding rules won't preclude grouping rides based on geography and arrival/departure time needs. More people riding together = reduced cost per ride provided. Think out of the box, folks.

FTA MOD Sandbox II could focus on "guiding principle 2: innovative business models" and specifically on improving financial results for public transit and private mobility services. The focus could be:

a) score grant proposals on an explicit criteria on cost-efficacy, ability to self-fund, ability to scale, potential identification of permanent funding sources, ability to cost-reduce at scale, etc. Grant proposals should include biz model spreadsheet calculations that argue that the proposal is innovating for improved financial results.

b) provide technical assistance to applicants in developing more robust "financial improvement" analyses.

BACKGROUND:

MOD is "failing," except in a few urban downtowns.…

DOT's Civil Rights offices need to ensure equal and equitable enforcement for all protected categories of passengers and communities. Now is not the time to revert to "selected civil rights." There is a long history of taxis and similar providers refusing to serve minority communities, and this should not be allowed to be continued under "shared mobility" programs or federal funding. Attention to ensuring service to persons with disabilities should not override comparable guarantees for persons of color or low income.

The Chicago Transit Authority (CTA) requests that FTA convene a discussion with transit agencies to discuss impacts and benefits of various policies regarding shared mobility. CTA further requests that the federal government be deliberate and cautious about extending federal funding and associated benefits (e.g., the allowable use of pre-tax dollars to pay for transit fares) to private companies providing transportation services. There is a risk that, if not structured properly, increasing levels of partnership between public agencies and private transportation services could result in the privatization of large parts of public transportation services, which could in turn put low income,…

-The FTA could provide guidance on how transit agencies can achieve ADA compliance when collaborating with entities such as private start-up companies that may not have the resources to be fully ADA compliant. This guidance could also address exceptions if the transit agencies were to supplement the deficient areas to ensure equal service to all customers.
-Best practices in using technology to provide solutions to address cost efficiency and improved customer service.

-Current shared mobility solutions for paratransit, such as contracted brokers and voucher-based car services, can be costly. Collaborations with other third-party TNCs, such as Uber, Lyft, and E-hail, could offer reduced paratransit operational costs, provide greater flexibility and shorter ride times, and help to support equitable and fair delivery of shared mobility services. It should be noted, however, that collaborations could result in a disparity in the number of wheelchair accessible versus non-wheelchair accessible vehicles, which conflicts with the ADA and could result in non-wheelchair users receiving a benefit not equally available to wheelchair users. Options for increasing wheelchair accessible…

Use of shared mobility services could lessen the cost of providing service in off peak, low demand periods. It could also allow smaller operations to ramp capacity without expanding fleets.

-The financial costs of providing ADA complementary paratransit service that is comparable to public transportation.
-ADA compliance requirements regarding equitable treatment and service provisions can make collaborative efforts with vendors that are not fully ADA compliant costlier and more challenging.
-Many TNC's are privately owned and operated vehicles, which can restrict the availability of wheelchair accessible vehicles needed to ensure equity in accessibility and vehicle availability.
-Collaboration with TNC's would equal a significant savings for paratransit. However, ensuring equitable access could be a challenge because of the disparate treatment of those attempting to secure the same fast and reliable service. …

-How do we meet the growing and diverse transportation demands of persons with disabilities?
-How do we accommodate the demand for the service within the community through technology while ensuring compliance with existing federal requirements?
-How do we service the entire community through collaborative efforts while ensuring compliance with existing federal requirements?
-How do we provide better service, improve on-time performance, shorten ride time, and increase flexibility to manage and book trips?

Safety, reliability, timeliness, compliance with the ADA, and enhanced independent mobility of travelers with disabilities are all relevant performance indicators that the FTA should consider. In addition, the FTA should consider developing indicators that help to assess the use of more integrated technology (such as smartphone applications) and Transportation Network Companies as viable alternative service methods that meet safety, reliability, timeliness and cost standards. We note that any performance indicators should be used as general measures for evaluating the effectiveness of shared mobility in the industry as a whole and not be linked to any regulatory actions or funding programs…

The federal government's role with respect to shared mobility should focus on the following areas:
-Providing guidance to help shared mobility services comply with applicable existing Federal requirements such as the ADA and Title VI.
-Providing federal funding that can be used to support collaboration between public and other alternative transportation programs.
-Providing a forum to promote research and share best practices related to shared mobility for providers and customers. This can include, for example, a repository of ways to improve the independent mobility of traveler's with disabilities through greater use of technology.

The federal government should not impose new…

Don't adopt performance measures that will become a reporting burden on small providers and small businesses they may partner with.

The level of federal regulation and oversight just continues to increase. It stands in the way of innovation and partnerships

Many areas of the county now have volunteer driver programs for NEMT. If there could be a program designed to help those that are just getting into the concept of using volunteer drivers for assisted non-emergency medical appointments, it would be a great time saver and help to those new programs.

Presently all reporting obligations are those of the grantee which includes which agencies they are coordinate with to provide service.

My suggestion is that the FTA should require the agencies whom receive services through coordination report what the service is that they actually received.

This would create a much needed check and balance

The amount of time spend on collection, PM, bus changes, customer service, reporting is amazing. I believe when we put out costs together free fare system would benefit transit agencies with APC's leading our ridership data. In fact I believe free fare would encourage public transportation to increase service frequency as well as demographically.

We purchase the initial solution and with time, cannot afford to update or upgrade it. Features are coming out daily yet we cannot afford to purchase them nor implement them. We are bound to sole source or limited funds and cannot move to another platform to achieve what we want for data requirements. Technology moves fast, faster than the capital plan.